Katie Beck was diagnosed with bipolar disorder II and generalized anxiety 12 years ago and became a warrior about her mental health ever since. According to the National Institute of Mental Health, bipolar disorder II is consistent depressive feelings or consistently hyper emotions Generalized anxiety disorder as excessive anxiety or worry and can cause significant problems in areas of their life such as social interactions, school, and work.
Though she was scared at first, NAMI helped her understand her diagnosis. She mainly participates in NAMI Four County, which serves the Defiance, Fulton, Henry and Williams counties, but the impact NAMI made in her life is just the same.
"At NAMI, I found knowledge, support and hope. It helps me when I am not doing well but it also gives me purpose and a way to help others when I'm doing good."
Katie consistently goes to support groups and even leads a few groups herself. She also speaks on panels for education classes and Crisis Intervention Team training, which creates the connection between law enforcement and mental health professionals, and is the co-chair of NAMI Four County's Spaghetti Dinner and Raffle Fundraiser.
At NAMI, Katie participates in the walk every year. This year was her 8th time walking with NAMI Greater Toledo, but her 12th time walking with NAMI overall.
"I walk because I love NAMI and everything it does…and it is so much fun. I love getting a big team together of my family and friends to raise awareness for this amazing organization."
Everyone is impacted differently by NAMI, but for Katie she sees herself in a much better light. Though she credits many things for improving her mental health, she says that NAMI is definitely on her list. She calls her battle with mental health a "journey," but is grateful for both NAMI Four County and NAMI Greater Toledo for what they are doing to help her.
Want to share your story of NAMI Greater Toledo impacted you? We would love to hear from you! Contact us!
Read more stories like Katie's.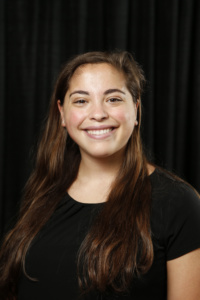 Brooke Crockett is a third year student at the Ohio State University with an anticipated graduation of May 2020. She is majoring in Strategic Communication and double-minoring in Professional Writing and Nonprofit Studies. She is the current marketing/PR intern for NAMI Greater Toledo.