Dawn Meade has been coming to NAMI Greater Toledo for years and is considered one of our "seasoned members." She was diagnosed with bipolar 2 a while back which made her become very isolated and introverted. According to the National Institute of Mental Health, bipolar II is described as, "a pattern of depressive episodes and hypomanic episodes, but not the full-blown manic episodes that people bipolar I experience."
Dawn says NAMI Greater Toledo has impacted her life immensely.
"I wouldn't have stepped out of my house and volunteered if it weren't for NAMI."
She does a lot for us here, including getting outreach packets together, making new members packets and she helps with our Creative Expressions Support Group. When asked if her mental health has improved since joining NAMI, her response was, "Yeah. Coming here and volunteering is enough. Staying home and isolated is what I would normally do. This helps me get out and express myself."
Helping people like Dawn is what we love to do. When asked if she had any final thoughts, she thanked NAMI for teaching her how to take her medicine on time. She hasn't missed a dosage since she was taught to set reminders on her phone. It is the small things that seem to mean the most for people, and we love that here. Dawn is just one of many stories to come.
If you would like to share your story, contact us! We would love to hear from you!
To read more stories, click here!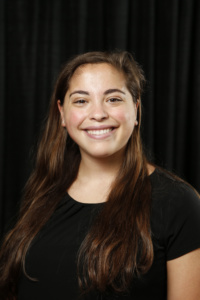 Brooke Crockett is a third year student at the Ohio State University with an anticipated graduation of May 2020. She is majoring in Strategic Communication and double-minoring in Professional Writing and Nonprofit Studies. She is the current marketing/PR intern for NAMI Greater Toledo.