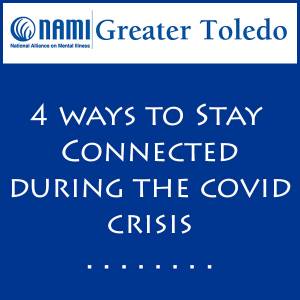 Lucas County COVID-19 Emotional Support Line
The coronavirus pandemic and the resulting isolation has left many of us with increased levels of stress, anxiety, worry, depression, and fear. In response, the Mental Health & Recovery Services Board of Lucas County (MHRSB)   has been developing new strategies to counter the emotional burden caused by the pandemic, including the Lucas County COVID-19 Emotional Support Line. The support line aims to provide support to individuals who are experiencing increased levels of uncomfortable feelings or other emotional challenges due to the pandemic. The line is operated by the Wellness Center under the management of Neighborhood Properties Inc. of Toledo and staffed by skilled listeners, with lived experience that can help people manage the day-to-day stress that they are experiencing.
Call the Emotional Support Line at 419-442-0580 now to chat with someone about how you are feeling.
. . . . . . . . . . . . .
NAMI Helpline
During this difficult time of the coronavirus pandemic, the NAMI HelpLine is here for you. HelpLine volunteers are working to answer questions, offer support and provide practical next steps.  The NAMI HelpLine is a free, nationwide peer-support service providing information, resource referrals and support to people living with a mental health condition, their family members and caregivers, mental health providers and the public.
NAMI HelpLine staff and volunteers are experienced, well-trained and able to provide guidance.They understand, many from their own experiences, listen and offer support; they are informed on NAMI Programs, NAMI Support Groups and can locate your local NAMI Affiliate; they are trained to help identify the best resource options for your individual concern; they are knowledgeable and a source of accurate information about relevant topics; they care.
To contact the NAMI HelpLine, please call 800-950-NAMI (6264), Monday through Friday from 10 a.m. to 6 p.m., ET, or send an email to info@nami.org.
. . . . . . . . . . . . . .
Zoom and Houseparty – Social Networking Apps
NAMI Toledo uses the Zoom app ( https://zoom.us/ ) for its virtual peer support groups during the COVID crisis and for certain webinars. Zoom can be downloaded for use with a PC or tablet online or smartphone via the app store. Zoom tends to be used more by organizations and businesses to conduct virtual conferences and meetings, while Houseparty is an app that appears to be used mainly as a way for you to gather virtually online with a group of friends. Click here for more on the Houseparty app ( https://www.houseparty.com/faq/ ).  You can download Houseparty on your smartphone, and tell your friends to download Houseparty, and start having regular virtual get-togethers!
. . . . . . . . . . . . . .
NAMI Toledo Virtual Online Support Groups
Are you living with depression, bipolar, or anxiety disorder? Are you feeling frustrated, hopeless, or confused? Do you need to talk with people who have experienced similar feelings or challenges? You are not alone! Participate in a NAMI support group – a great way to stay connected to people during the social isolation caused by the coronavirus pandemic. These free, currently virtual groups are led by individuals who are in recovery themselves. Use the Zoom app to join any group and email kzientek@namitoledo.org for Zoom login information and dates and times not posted.
December 16, 4:30pm – Virtual Peer Involvement Activity Group
Play games, enjoy conversation, and talk about any mental health concerns
Peer Support Group hosted by Audrey
Join this group to discuss your current mental health issues with peers as well as any difficulties you may have coping with the current life realities under the coronavirus pandemic.
Virtual Create Now Art Workshops
Join us in making a new work of art every month! Those planning to participate need to RSVP to kzientek@namitoledo.org in order to receive information including updates about the monthly project type, details about where to pick up supplies, and ZOOM meeting login details.
December 21, 7pm – Virtual Family Support Group
For family members of someone suffering from mental health issues, participate in this group to gain a better understanding of what your loved one is going through.  
Virtual Creative Kids Art Workshop, ages 6-17 years
Join us in making a new work of art every month! For kids and teens. RSVP to kzientek@namitoledo.org to get program information.
~ ~ ~ ~ ~ ~ ~ ~ ~