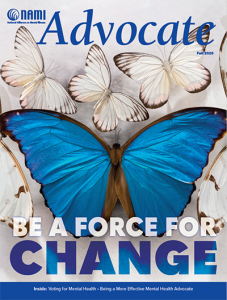 Consider Becoming a NAMI Toledo Member
NAMI's Advocate magazine
Membership helps support NAMI of Greater Toledo in its providing its many services, from mental health classes to support groups, that are free and open to the public. Membership also is a way of showing your support for NAMI's mental health advocacy and NAMI's work to encourage and help businesses to go "stigma free."
As a member of NAMI, not only will you be supporting our free support groups and classes, like Family to Family and NAMI Basics, and our annual NAMIWalk, but you will receive NAMI's Advocate magazine at least twice per year, and receive a discounted rate to NAMI's National Convention.
Here are some things current NAMI members have to say about why they love NAMI and NAMI membership:
Robert R.
I was drawn to NAMI initially as a concerned grandfather. I took NAMI of Greater Toledo's Hand to Hand course for parents and grandparents (a precursor to NAMI BASICS) and found it so interesting that I took Family to Family as well. That was about 10 years ago. Since then and until recently, I have facilitated the Family Support Group and taught both Hand to Hand and BASICS. The information in these courses, the reading I have been led to do–including our Advocate newsletter–have helped me put into perspective my grandson's problems and their impact on his family. I feel less helpless and at my wits end over the situation. I have also met some really courageous, caring, and informed people among my co-teachers and co-facilitator as well as the participants in the Family Support Group and the classes I've taken and taught. Thanks to NAMI, I have truly felt supported and cared for as I help my daughter deal with my grandson's problems.
What I love about NAMI's Advocate magazine are the remarks of NAMI's medical officer, Dr. Ken Duckworth, and the stories of sufferers and their families.
~ ~ ~
Sarah B.
What I like about being a NAMI member is knowing that I am personally contributing to advocate for Mental Health and receiving the monthly Advocate magazine. I also find that being a NAMI Member helps keep NAMI's programming free for all.
I've been a member consistently of NAMI of Greater Toledo since 2016. At first, I attended support groups to help myself. I eventually became healthy enough to volunteer with NAMI and lead support groups. NAMI has been in my corner throughout my mental health journey, especially recently, and is a great support system for our community. I recommend becoming a member of NAMI, getting involved, learning more, helping yourself, and helping others.
I enjoy reading NAMI's Advocate Magazine for tips on how to speak with people. I read the NAMI Advocate in my leisure time, and file it away later for when I need to use it as a reference material. The NAMI Advocate magazine gives updates on what is going on with Mental Health Reforms, tips on reaching out to others, and editorials. It also gives the readers personal testimonies, a Q & A with experts, and tips on how to write to your representatives about Mental Health Issues that come before local, state, and federal legislation. I personally like to stay educated, so I think the Advocate is a good source material and great material for the general public and consumers.
~ ~ ~
Dr. Suzanne B.
I have had the experience/opportunity of being a NAMI Greater Toledo member since 2013. I was drawn to NAMI because I wanted to personally support its mission to stop the stigma regarding mental health issues, and to advocate for those who either have a mental health diagnosis, or have a loved one experiencing such issues. I have worked in the mental health field for many years, and am very much aware of the challenges facing one with mental illness, as well as the absolute necessity for those individuals to receive any support possible, in order to reach and maintain recovery.
NAMI is a superb organization which provides a wealth of resources to those with mental illness, loved ones, and the general public. I served on the NAMI Board of trustees for six years, with four of those years as President. Throughout my time on the Board, I received a more detailed understanding of the various ways NAMI works towards its mission – from the support groups such as Creative Expressions, to educating the public about mental health…and much more, NAMI continues to strive to fulfill its mission.
The personal stories included in NAMI's Advocate magazine are, in part, testimonials to how NAMI has been able to help so many people. There is still much work to be done, but together as NAMI members, we can continue to focus on eradicating the stigma related to mental illness and advocating for those unable to advocate well for themselves.
Consider becoming a NAMI Toledo member today!  Click here to visit our Membership page.