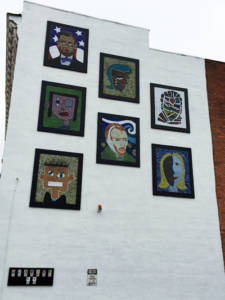 Shattering the Stigma of Mental Illness Through Art
Toledo is celebrating mental health awareness with a new mural, Shattering Stigma – The Faces of Mental Illness on the building that is home to Adams Street Publishing, the publisher of the Toledo City Paper and other local and Ann Arbor papers. The mural is at 1120 Adams Street in downtown Toledo.
Artist Gail Christofferson oversaw the making and placement of the mural, which includes portraits of Abraham Lincoln and Vincent Van Gogh, both of whom suffered from depression, and which is a work done in collaboration with Zepf Center consumers of mental health services. Other portraits that make up the mural are self-portraits of individuals involved in the Zepf Center's Expressive Art Program.
"If we can talk about [mental illness] openly and honestly then it isn't in the closet. [We are not saying] let's hide it from everyone. That's the goal of my art," Christofferson commented to the Toledo City Paper.
"I've known Gail Christopherson for many years," said Collette Jacobs, publisher of Adams Street Publishing, on the decision to host the mural on their building, "The eastern facing wall on our building has been a prime location for a mural for years… Gail reached out with the idea to do "Shattering Stigma" and I liked the design…I believe in the message and raising awareness [about mental illness] and the ability of the mural to increase community understanding is important."
NAMI Toledo fully supports efforts at shattering mental illness stigma and improving mental health awareness in our Toledo-area community.
Click here for the Toledo City Paper's short article about the collaboration on and making of the mural.