As of today, June 19, 2019, my life is stressful but bearable. There are no large events or activities coming up. I work about 25 hours per week and intern 10 hours per week while working out at least twice per week. I just began using melatonin to sleep better. The only stressor in my life is that it is almost one month since I put my childhood dog to sleep.
At first glance, you can tell this is supposed to be a very relaxing app. The colors are soft, the font of the text looks handwritten, and the opening screen is a flowing river with birds chirping as well. There are three options for you to pick from: "Sleep," "Meditate" and "Music." Looking around on the app, I noticed that there are a lot of things that are locked. Though there is a 7 day free trial, it is $59.99 per year to use all of the features the app offers.
After doing the first day of the "Seven Days of Calm" meditation series, I already felt more in tune with my body (and it was only a 10 minute meditation episode.) The first song I listened to on the app was "The Hands That Play," and immediately I was encapsulated by the soothing noises. Along with that, there is a background that moves around with each song which adds to the ambiance of the whole experience. Though it is meant to be listened to before bed, I listened to it while interning at NAMI Greater Toledo to help with my focus.
After 14 days of daily meditation, I can honestly say that I am finding myself to be more focused and optimistic. After about three days, I made the decision to not listen to the music portion of the app or the sleep portion. I didn't know when to listen to the music because it was very entrancing. It started making me distracted instead of focused and I feel like you can only benefit from it if you're sitting in total silence. I couldn't even listen to it while I was scrolling on social media. It almost hurt my head to do so.
I also stopped listening to the sleep portion because even though there were adult versions, they were essentially bedtime stories. They are meant to be listened to right before you go to sleep and I found it to be extremely distracting and ended up being awake for an extra 30 minutes instead of sleeping.
However, the meditation portion is very beneficial. The voices are very soothing and calm which helped me focus a lot. A nice feature is that you can also change the narrator from a female to a male. You could also decrease the volume of the background noise that was being played during the meditation, which is flowing water and birds chirping. I always felt very zenful after each practice and more in-tune with my body. 
My only real criticism of the app is that you have to pay for a "pro" account to access 95 percent of it. Being in college, I don't have $60 to spend every year on an application. I could only access the first day of other mediation series, such as, "Seven Days of Calming Anxiety" or "21 Days of Happiness." I only had access to a handful of songs and it seemed like only three or four stories total. The only other thing that was a real struggle is that I couldn't find the time to sit down for 15 minutes and meditate daily. What almost always happened was I would be getting ready for bed and all of the sudden I would think, "shoot I still need to meditate." Even though you can set reminders for yourself, my schedule isn't consistent enough to do it at the same time every day. 
Overall I rate this app an 8/10. I really feel like it benefited me mentally since meditation plays a vital role in mindfulness. Being able to have guided meditation that teaches you how to sit and breathe properly while meditating is very nice. I just wish there was a lot more you could access for free. Time to move onto "Headspace!"
To read more blogs, click here!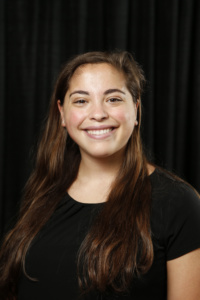 Brooke Crockett is a third year student at the Ohio State University with an anticipated graduation of May 2020. She is majoring in Strategic Communication and double-minoring in Professional Writing and Nonprofit Studies. She is the current marketing/PR intern for NAMI Greater Toledo.