NAMI Toledo is proud to offer a new peer support group, the Virtual Peer Involvement Activity Group, the first and third Wednesday of every month from 4:30 to 6pm, facilitated by Emma Brock and Katie Beck.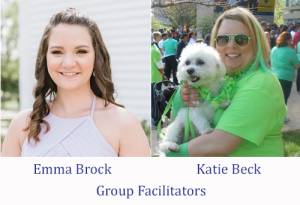 The Virtual Peer Involvement Activity Group, conducted online over the Zoom app, is a new kind of NAMI Toledo support group that allows people with a mental health diagnosis to combine having fun with games while also sharing their stories and receiving support.
Emma, a social work major at the University of Toledo, is interning this year at NAMI of Greater Toledo and is a newly certified peer support specialist. "It's a new group and we are still trying to get more information out there about it so, I am hoping that within time it will only grow," says Emma. "I love being able to be there for [the participants] and be able to give them the resources they need. That is my main goal. To be able to be there for them to vent to and help them get the tools, advice (if needed), support, care, and resources they need," she added.
Katie, who majored in therapeutic recreation at Kent State University, is also NAMI-trained to facilitate a support group. She currently works at a community health center and has been doing public speaking about her personal story and raising awareness of mental health issues. Some of her public speaking has been for NAMI Toledo.
The Virtual Peer Involvement Activity Group begins with introductions and then participants can share a little bit about their diagnosis and recovery story. Then the group will do an "ice breaker" which can be about anything and is usually lighthearted. The group participants will then play a game or do an activity for 45 minutes. So far, the games have been fun and easygoing: the first game was 20 questions, and the second group game was Scattegories.
After participants play a game, the group shifts to open discussion about any concerns, advice, or resources participants may want to talk about with the facilitators and group participants.
This totally virtual activity group is accessed with Zoom, via the Zoom website or app available for smartphones. NAMI Toledo will send out emails with Zoom links the day of each virtual activity group. Katie and Emma log on 10 minutes before each group is to begin. Also visit NAMI Toledo's Facebook page for information about peer support groups.
NAMI Toledo hopes to see you at this new group!
~ ~ ~ ~ ~ ~ ~ ~ ~ ~ ~ ~ ~ ~ ~ ~ ~ ~